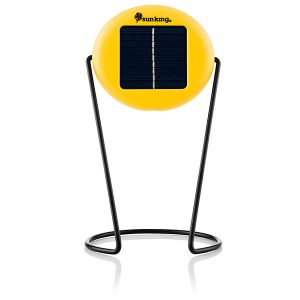 Sun King Pico from Greenlight Planet
Get 70+ hours of solar lantern light off one full charge with low, normal, or turbo lighting modes to get just the right amount of light.

Built-in solar panel and detachable stand makes stashing it just about anywhere simple and easy.

Backed with a 2 year warranty

Power LED with 25 lumens total flux, neutral color temperature

Three light modes: Turbo (25 lumens); Normal (13 lumens); Low (2 lumens)

5 year Lithium Ferro-Phosphate (LFP) battery

Integrated 350 mW polycrystalline solar panel

Drop-proof, UV-stable, IP65 rated polycarbonate & ABS casing

Water-resistant with O ring seal for rain and humidity protection

At 150 grams this rugged, compact design is perfect for camping, backpacking, emergency survival kits, or anyone on the go.